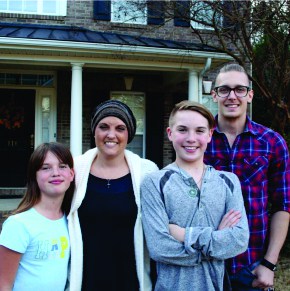 We met Sherri on May 25, 2016, in her home; she has been fighting Esophageal Cancer since September of 2015. Sitting on her back porch we able to enjoy the beautiful weather and learn so much about Sherri's life. Besides her three children, her husband, and the Lord, one of her favorite things is her chicken coop and chickens. Her husband built the coop for her and she beams when she talks about it.
Sherri's three children are 10, 13, & 22 years old. She mostly focused on gifts for the future, including key chains made from one of her leather belts for 16th birthday gifts, bracelets made from redesigning one of her own, bibles, wall hanging quilts that will tell the story of her life (yes, there will be chickens on the quilt), and hourglasses made from sand from a family vacation for other occasions.
Sherri passed away September 2017.