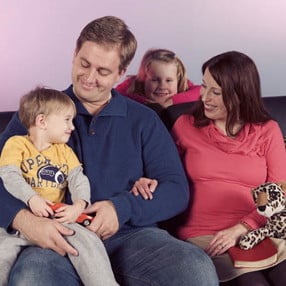 Stephanie is a 37-year-old mom to two sweet children, Chloe (5 1/2) and Jack (3 1/2) and wife of 14 years to Joel.  During our first interview on January 18, it became apparent very quickly that Stephanie is a woman of faith.  Her strength comes from her Lord and Savior, Jesus Christ; and after talking with her for just a short time, you realize her wisdom does too.
An accomplished marathon runner – she has entered and completed 18 marathons (all because a doctor told her she couldn't do one :).  As you can imagine, Stephanie uses her determination to get through every day.  She loves to cook and enjoys a hobby of beading jewelry.  Her friends, church family, and Joel's workplace have all been great sources of support for the family.
Stephanie is in need of a heart and liver transplant. Each day, as she waits for "that" phone call, she is determined to put things in place for her husband and children.  She has chosen some beautiful keepsakes including thumbprint charms, recipe collections, shadow boxes displaying a couple of her marathons, Thanksgiving Platters, Bibles for the children, family photos, and letters that she has written to her children for their future birthdays, specials occasions, and life's lessons.  Special books were made for each child to hold these letters – they are books of envelopes where Stephanie can seal her letter in the appropriate envelope (they are labeled with each occasion, for example: "For Your 16th Birthday").
Please pray that a donor is soon found and that Stephanie's body then accepts the organs.  Pray for the doctors that will be doing her procedure and for the staff that will then care for Stephanie.  She has a long road ahead of her, but one she is eager to get started traveling down.
*** On July 7, 2012, Stephanie received her new heart and liver.  On July 8, she also received a new kidney.  Today, July 10, Stephanie is doing very well.