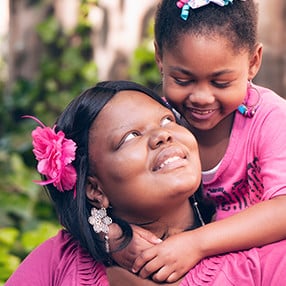 What can we say…sweet, sweet, sweet.  Kelli is a 25-year-old mom to five-year-old Ashante; the two enjoy baking, doing arts & crafts, and coloring together.  In our first meeting with Kelli, we learned about her love of R&B and Gospel music, for cooking (her corn bread is Ashante's favorite), for Jesus, and of course, her daughter.
Kelli chose to have family pictures taken, thumbprint charms, a photo charm bracelet, a teddy bear made from clothing, a high school graduation gift, scrapbooks, and a corn bread mixing bowl with Ashante's and her own hand prints.
Since we first met with Kelli, she has had a bone marrow transplant and is doing well.  Please join us in praying for Kelli that she may continue to heal.