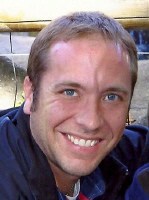 On October 12, 2010, Josh found a permanent place in our hearts. That was the day we met him and learned of his battle with Pancreatic Cancer, but most importantly of his love for his family. Josh (35) is married to Nicole and together they are raising their 2 boys, Tyler (10) and Justin (15).
After 5 minutes with Josh, you would see that his boys are his world. Tears flowed as he told us of his love for them and his joy of doing "dad" things with them. As an avid collector of many things, it seemed appropriate that Josh's collections (t-shirts, hats, coins, guitars, CDs, vinyl, and more) be photographed and printed in a "rock star" style book. Some of Josh's favorite t-shirts were also made into quilts for the boys. Two scrapbooks were made for each of Josh's sons so that they can hang on to the memories of their Dad from his birth through their most recent photos with him. A DVD including family photos and his favorite music was also created for each son.
Josh chose to have thumbprint charms made for his boys and presented the necklaces (with charms) to them in a casual, yet very moving, way. At the same time, Josh was making his thumbprints, he and the boys painted "Philly Platters" (representing Josh's favorite food – The Philly Cheesesteak, and his favorite teams "All Philly")
Our favorite "Josh project" is still underway. Josh has several tattoos that are significant to him, but one is especially meaningful. The image of the tattoo will be burned onto the top of a wooden keepsake box, in which the boys can keep special treasures (including the necklace with their Dad's thumbprint).
Josh passed away on January 24, 2011; he was 35 years old.