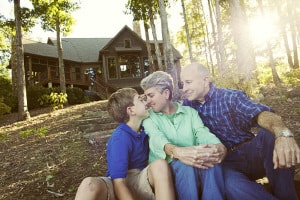 "A person of great wisdom", that is how we see Kim (50). She is a woman that you can sit and talk to for hours and you can be confident that when you leave, you will be a better person. We first met Kim and her husband Reid at their home in September of 2010. Kim was diagnosed with brain stem glioblastoma in April 2010.
When she became a mom to Sam (now 13), Kim chose to dedicate most of her time to "Mom activities', room mom, coaching, PTA, etc. It has been Kim's and Reid's mission to create a life full of traditions for Sam. Kim loves to outdoors; she has skied for much of her life and is an avid hiker – these have become cherished family activities.
Kim's sister-in-law saw the importance in Kim's legacy being preserved and suggested that she contact Let There Be Mom.
Many of the family's traditions have already been documented and organized by Kim, as she has photo albums that contain notes and labels for most of their events/years. She has, however, selected a few projects for us to work on. Her thumb prints were captured and charms were made, the family was photographed by getz creative and keepsake books were made, a quilt of her ski clothing will be created for Sam, and to represent the family's love of hiking, a compass is being selected for Sam, the strap and box will be made from the leather on Kim's hiking boots.
Kim went home to her Heavenly Father on November 19, 2011.!