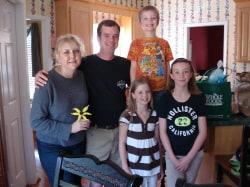 On June 10, 2010, we had the honor of meeting Marsha. We spent three hours with her, learning about her love for books, movies, cooking, her family, and the Lord. She was 42 years old, with 3 children (11, 10, and 7) and a husband, John, of 19 years. Marsha's breast cancer had recently (over the past 9 months spread to her lungs and brain).
Scrapbooks, quilts, book collections, recipe preservation, shadowboxes, snow globes, and a very special treasure for the future were among the gifts that Marsha chose to have made for her children. Volunteers worked tirelessly on the scrapbooks and were able to complete 6 amazing books for the children (2 each). The other items are works in progress which we hope to have the family over the next couple of months.
In addition to helping Marsha preserve her legacy, we were able to ensure that each of the children (who would/will all be celebrating birthdays in the coming months) had very special days planned. This was important to Marsha.
On June 25, 2010, Marsha tired from her fight and went to be with her Lord and Savior. Many tears have been shed over the earthly loss of this wonderful mom, wife, and friend.