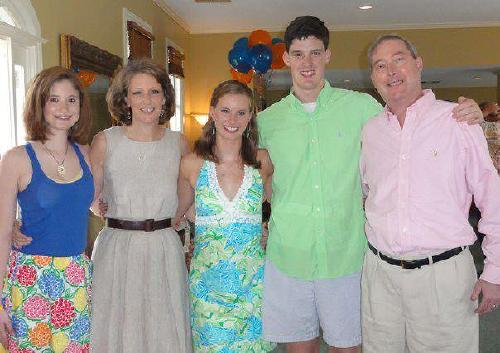 Jeff enjoyed hiking, golfing, music, crab legs, grilling, and New Year's Celebrations, but most of all he loved being a dad and a husband.  During our meeting in September 0f 2011, Jeff told us that he was most proud of meeting and marrying his wife Diane.  Together they have three children, 17 (Jennifer), 19 (Emily), and 21 (William), who clearly brought a light into Jeff's eye as he spoke about them.
During recent years, much of Jeff's time was spent serving as a Scout Master for his son's Boy Scout troop, cheering on the Auburn Tigers with his second born, and clocking his youngest daughter's swim times.  These special moments with each of his children helped to define a direction for some of our projects.
We are sad to say that our time with Jeff was cut short (about 3 weeks), but we will continue to work on several projects that he had requested for his children including thumbprint charms, shadowboxes (unique to special times he shared with each of his children), quilts made from his clothing, and books of letters written by some of the people who knew Jeff best, his friends and family.
Jeff passed away on October 3, 2011.