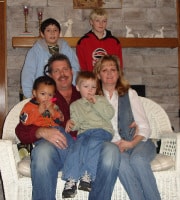 Gail, truly a Godly woman. On the first day we met with Gail, there were no hiding her love for the Lord, her husband (Mardy), & their four adopted boys. Gail was first diagnosed with breast cancer in June of 2007 – she fought hard for two and a half years. We were given just 4 weeks to work with Gail, as she passed away at the age of 48 just days after New Years.
Gail was a mom with many talents including painting, drawing, cross-stitching, cooking, & memory keeping. She also was able to share information with us about her favorite things in life, including the times spent with her boys, foods, colors, music, moments around the house, and holidays. We decided to create a coffee table style book that would showcase many of Gail's treasured times and gifts. Stephen Stinson, a local photographer, went to the Bryant home and took photographs of items and of Gail's children for us to use in the book.
We were able to get impressions of Gail's thumbprints, which will be displayed in a case along with Gail's favorite Bible verse, Psalms 91. To commemorate her deep faith, the boys will be given Bibles with dedication pages that contain a thoughtful message from their mom. In addition, quilts have been made out of Gail's clothing so that her young boys can continue to cuddle with their mom.
Gail passed away January 9, 2010; she was 59 years old.