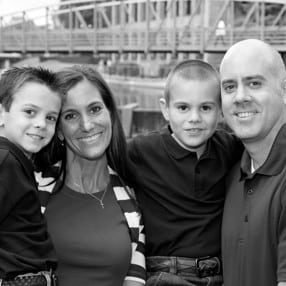 Kelly was a 42-year-old mom, wife, daughter, sister, aunt, and friend.  Kelly was the first mom we started serving in 2012.  Before her application arrived, we felt like we already knew her, as so many of her friends had contacted LTBM about Kelly.  Obviously very loved and admired, this vibrant mom to two young boys (6 and 7)  was in a fight for her life.
Scrapbooks, letters from friends and family, and thumbprint charms are some of the popular legacy items Kelly selected.  She also has chosen a shadowbox project for one son to house a favorite Lego project that the two of them created together and a book for her other son, to mark one of his favorite times with her, when she volunteered in his class by reading that very book.  Bibles were purchased for the boys, as Kelly's biggest hope was that they remain close to God throughout their lives.  And finally, to mark a special bedtime routine of a "30-second hug"  custom hour glasses (30 second run times) are being made using sand from a beach where the family vacations, along with"hugging pillows" made from family clothing and photographs, perfect for continued hugging throughout the entire night.
Kelly took her first breath in the presence of her Lord and Savior on Tuesday, January 31.  Please continue to pray for her family and friends.