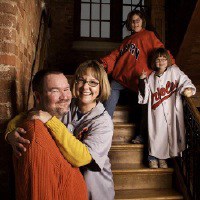 Michael was a 39-year-old dad who had just entered his 3rd year of living with ALS when we began serving him. We met with Michael and his wife, Lea Anne, in November and began plotting out a course of action. Since they had not had a family picture made in quite some time, we arranged for them to be photographed (left is one of the shots from that photo session – see more).
It is important to Michael to leave cards and gifts for his girls for significant events that will occur in their lifetime. Michael chose really unique gifts that will be left for his daughters, in an effort to maintain the surprise for the girls we have chosen to not to list all of the items.
Lea Anne and Michael believe it is important for the girls to have photographs of their dad to hold, so scrapbooks will be made for each of their girls, as well as letters compiled from friends and family to tell of special times they shared with Michael. The family visited The Glazing Pot to paint serving bowls. These bowls will have a potato soup recipe painted on the inside. The recipe has been passed down through generations of men in Michael's family.
Michael passed away on March 31, 2011; he was 41 years old.