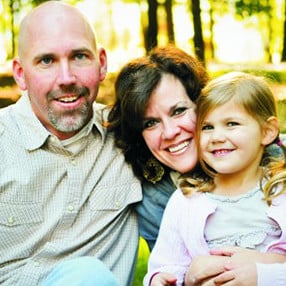 At 39 years old, Dan Wigington knew a thing or two about perseverance.  He dealt with a brain tumor for a little over 15 years.  Making the most of his life, he was blessed with a loving wife (Tashia) and a daughter (Luci, 5 years old) that adores him.
During our interview we learned that Dan is an outdoor guy – he grew up farming, playing in creeks, climbing trees, and hunting.  His love for the open-air lead to great Daddy-Daughter nature hunts. Dan and Luci spent many days hiking through the backyard woods collecting acorns and leaves, and enjoying all that God has created.  To represent their time together, a decorative acorn will be selected and engraved with a special saying to remind Luci of those walks together.  A charm bracelet is also being created to symbolize other things Luci and Dan do together, like dining at Moe's, playing with Play-Doh, their special Disney trip, and more.
Dan's friends and family members were asked to write letters to Luci about times they spent with Dan so that she can get to know her Dad through the eyes of others.  A quilt is being made from clothing, including Dan's Superman Cape from when he was little.  Thumbprint charms have been created, as well as a bowl to represent Dan's favorite Oatmeal Cookies.  And our favorite keepsake for this family, Dan collects knives, one of his knives will be made into a bracelet for Luci.
Dan's fight ended on August 7, 2012.  He is surely enjoying being pain-free at home with the Lord. We ask that you pray for Dan's loved ones to find peace in God's arms.