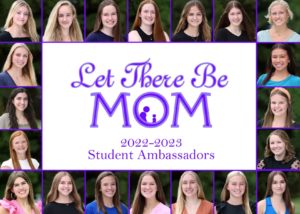 Let There Be Mom is excited to continue our Student Ambassador program in the 2023-2024 school year.    Our goal is to equip students to be stable branches of our organization within their schools.  They will be responsible for spreading the word about our mission, our volunteer opportunities, and our upcoming events.  Students will engage with local leaders within our community to learn valuable skills that will help them not only through this process, but also within their lives.
Up to 20 local high school juniors and/or seniors may be selected to participate in the program (no more than two representatives from the same school). Students will be expected to attend meetings (typically in the evening, on the 2nd Tuesday of each month) throughout the school year and will have the opportunity to serve as lead volunteers during events.    The program will not be all work – expect to have some fun!
APPLY HERE/Be Prepared: You Will Need to Upload Your Resume & Transcript APPLICATIONS FOR RISING JUNIORS ONLY HAVE BEEN REOPENED  though June 16, 2023.
WHY BECOME A STUDENT AMBASSADOR? 
An opportunity to do something big and make an IMPACT.
Looks great on your college/grad school/job applications.
Recognition and Awards for your service.
Receive graduation cord for your leadership.
Gain valuable knowledge and leadership skills useful for life after graduation.
The Nitty Gritty
Up to two representatives per local HS (where community service is relevant), Students must be rising Juniors or Rising Seniors to apply.
Students will meet, as a group, with LTBM representatives throughout the school year – typically, 1 time per month, meetings will last 1.5 – 2 hours, food will be provided. Students are expected to have no more than 2 absences throughout their time of service.  Meetings will likely be on the 3rd Tuesday of each month, usually beginning between 5:30 and 6:00.
Students will be responsible for:
Providing contact information of faculty members who are club sponsors (focusing on clubs with community service requirements).
Following up with faculty members regarding volunteer opportunities for their groups.
Posting Volunteer/Event Opportunities on school bulletin boards.
Encouraging other students to volunteer with LTBM (hopefully, school will introduce student and allow them to make an announcement)
Promoting LTBM events on your Social Media.
Providing your own transportation.
Speaking to your Middle & Elementary Schools staff/students, when appropriate.
Appearing/Speaking on local media, if needed.
As a whole, the group will coordinate a fundraiser to benefit LTBM.
Student Benefits:
LTBM will provide coaching/tips on various topics including communication, resume writing, personal presentation, working in groups, etc.
Students will gain valuable knowledge & leadership skills useful for life after graduation.
Students will receive a minimum of 18 volunteer hours for the school year, with the opportunity for many more.
Students will receive a Student Ambassador T-shirt.
Students will receive graduation cords for your leadership & participation.
How to Apply
APPLICATIONS FOR RISING JUNIORS HAVE BEEN REOPENED.  RISING JUNIORS CAN APPLY HERE (THROUGH JUNE 16, 2023)
Rising high school Juniors and Seniors in the Upstate of SC who attend a public or private school are eligible.  Students must complete the online application, have a recommendation form submitted on their behalf, have approval from school, & participate in an in person interview.  Please have your resume and transcript available as an upload before beginning your on-line application. (If you do not yet have a resume, try using a template in Google Docs, or in Word, to complete yours.  Greenville County Students, you can download your transcript from Power School).   Applications are being accepted through May 17, 2023.