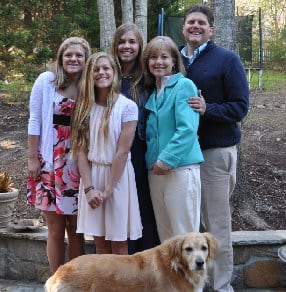 Our first meeting with Paula was on August 18, 2016; she immediately found her way into my heart.  She and her husband John were very thoughtful in their answers and enjoyed the trip down memory lane.
In her childhood, Paula liked to be outside; "barefoot in West Virginia" is how she described herself.  She loved to hang out with her friends, enjoyed tubing, & was known as the "organizer of activities"; making good grades was important to her.  She enjoyed reading and tried to pass that on to her girls as she & John read to them religiously every night before bed.  Each year at Christmas, Paula's favorite holiday, she enjoyed watching A Christmas Story and Family Vacation before getting in the kitchen to work on dinner.  She studied mechanical engineering and built her career at GE.
Paula chose to have us get birthstone rings for her 3 girls (each got a 3-stone ring, their birthstone along with Paula's and John's).  We also did thumbprint charms, pillows made from Paula's shirts, books of letters from friends and family, plus several gifts for the future to mark graduations, weddings, first houses, and first babies.  Theses items were carefully chosen and will make beautiful reminders of times Paula spent with the girls.
Paula's hard fought battle with uterine cancer ended on December 19, 2016.  She shared with me that she did not like when people said "Everything happens for a reason", but instead preferred the scripture "And we know that God causes everything to work together for the good of those who love God and are called according to his purpose for them" (Romans 8:28).