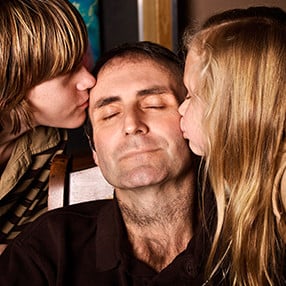 On April 1, 2008, Scott was diagnosed with stage 4 colon cancer. At 42 years old, this energetic dad of 2, was given this overwhelming news.
LTBM's story with Teri and Scott began on November 25, 2008, as we sat with Terri, her mom, dad, and Scott and learned about Scott's very full life. He had more life interests than many can dream of. His long list of pastimes gave us many unique elements to be used in setting up his legacy.
Prior to LTBM's involvement, Scott already started letters to his family. He asked that we help him complete these by giving him a glimpse into the future using our age progression artists. Scott asked to have the ability to record his messages, as writing is becoming increasingly difficult, to do this he was given a digital voice recorder. In addition to his words, Scott and Teri chose to create a charm bracelet displaying the many interests in Scott's life for their 7-year-old daughter and a shadow box showcasing some of Scott's same passions for their 11-year-old son.
Pictures are very important to Scott and Teri, getzcreative to photographed their family on Thanksgiving weekend. (see the pictures) A photo DVD was made so that all who loved Scott can take a trip down memory land and those who had not been blessed with him in their lives can get to know him a little. Gifts for the future were also bought for their children.
Scott passed away on December 16, 2008; he was 42 years old.