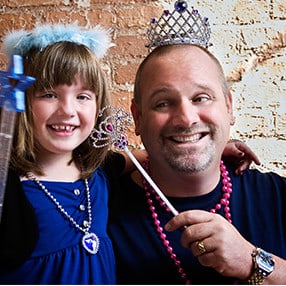 Robert passed away at the age of 46, he was a Dad and Husband. He and his wife, Lisa, contacted LTBM in early February and told us about Robert's very rare form of non-smoker's lung cancer. In July of 2008, at the age of 45, he was diagnosed with a blood clot in his leg, several weeks later he was told he had cancer, over the next month the doctors would learn that it was very aggressive and not responding to treatments – Robert was only one of two documented patients with this particular cancer.
As they prayed for a miracle, Lisa and Robert focused on preserving Robert's legacy so that their daughters would never forget the great man that Robert was. The Kelsey family was photographed with the goal of capturing Robert's sense of humor and his love for the three most important girls in his life. (see pictures) Bracelets were made for his daughters that showcase photographs of models that Robert built and pictures taken at the family's photo session, as well as traditional charms. Impressions of Robert's thumb print were made into charms and put on necklaces for Lisa and the girls. A DVD was made using pictures that were set to songs chosen by Robert and Lisa, and cookbooks preserve Robert's favorite recipes. (see video)
This family has an amazing gift for humor. In addition to the many sweet/compassionate items listed above, they wanted to create something fun for the girls to remember Robert's silly side…enter "The Burping Platter". The family went to The Glazing Pot and painted serving platters together. The word "burp" was written in a variety of languages, and caricatures of their faces were drawn. Small recording devices were given to the family to begin the difficult task of capturing their burps, they were then attached discreetly to the underside of the platters. It is different, it's fun and most importantly, it brings a smile to the faces of The Kelsey Family.
We enjoyed our time with Robert and feel privileged to have served him.
Robert passed away on May 3, 2009.