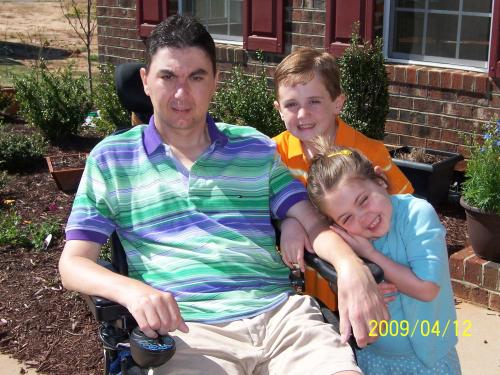 Jameela, Brian's wife, contacted LTBM in February. She knew of the help we were providing another family with ALS and asked that we help her and Brian to create memories for their children. At 35 years old, Brian was tackling ALS for the 3rd year. Together, Brian and Jameela, have 2 adorable children, ages 5 and 7.
In our first visit with Brian, we learned that he loved cooking, writing, crossword puzzles, sudoku, fishing, playing the trumpet, watching football, Christmas, reading, a variety of music, VT (just to name a few things) but mostly, he loved his family. In order to capture all of Brian's great interests, it was decided that we would create a book. Some of his favorite things will be photographed and Brian will write something about each – they will then be printed and bound into a "coffee table" style book.
Brian also chose to have letters written to his children from friends and family, these too will be bound in a book. To allow his children "cuddle time with Dad" quilts are being made using Brian's Christmas robe and some of his other clothing. The Nikolich family was photographed by getzcreative (see the pictures). At the same time that charms were made of Brian's thumbprints, he was able to enjoy a day of painting pottery with the children.
It was an honor to service the Nikolich family; our hope is that all of these keepsakes will help Jameela and their two precious children to always know how much Brian loved them.
Read Brian's Caring Bridge Site