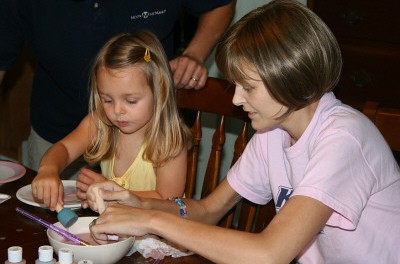 October 28, 1979 – August 30, 2007
We first met Amanda on Friday, August 10, 2007. She was a 27-year-old mother, wife, and daughter who was battling recurrent cervical cancer. She was married to Randy and together they shared a precious 3-year-old daughter named Madison. Amanda shared special stories about her life, which led to discovering a few very fitting ways to preserve her legacy for Madison.
Known for her beautifully decorated cakes, Amanda chose to paint a cake platter with Madison. Each placed their painted hand on the platter that was brought to their home by a pottery studio. Daddy and Grandma (Janet) also joined in on the fun, as together the four of them, created dessert plates. While there, a special clay was used to take an impression of Amanda's thumbprint. This casting turns to pure silver when heated, making a perfect charm that will be given to Madison with a special note from her Mommy at a later time. A photographer was at the home to capture the entire event. The emotions that were recorded in those pictures will forever remind Madison of her mother's love.
On Friday, August 17th, 22 volunteers got together to compile a scrapbook of Amanda's life. Within 5 hours all of the pages (which ended up being 104) were complete, filling two books. It was an amazing job done by amazing people.
Amanda chose additional items for her legacy that LTBM completed and delivered to the family. Amanda's loving family was instrumental in pulling pictures together, setting up the "painting area", and encouraging Amanda to make a record of her hopes and dreams, so that Madison will always have something to embrace.
Amanda was special to so many people. Let There Be Mom is proud to have her as our "first mom". Please keep your prayers with Amanda's family. Amanda went to be with the Lord on Thursday, August 30, 2007.
View the pictures taken by Suzanne Goodwin (the photographer mentioned above)