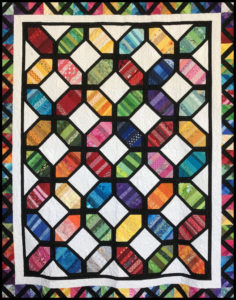 A Message from Nimble Thimbles Quilt Guild's Donation Quilt Chairperson, Deb Fenton:
Every year the Nimble Thimbles Quilt Guild (www.nimblethimblesquiltguild.com) creates a Donation Quilt that is raffled off to benefit both the guild and a chosen charity. This year we are honored to share our proceeds with Let There Be Mom.
Our 2021 quilt, "Stained Glass Strings", was designed by Liz Florom, pieced by members of the guild, and quilted by Evelyn Kellogg of Wolf Quilting (864-476-2130).  This quilt measures 76" x 94".
Online ticket sales of 5 tickets for $5.00 will be from January 18 – March 5, 2021 and are available below.
The drawing for the quilt will be at the Nimble Thimbles meeting, March 10.
We appreciate your support.
"It's the pieces when combined
That finish the design
In a mosaic collection
Gathered over a lifetime.
It's the pieces mended together
Where broken edge meets broken edge
That turns imperfection into a masterpiece instead."