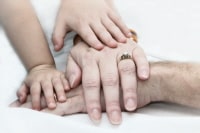 Dale's wife Whitney contacted us on October 6, 2009, to tell us about her husband, her friend, and the father of her children. She told us about Dale's recent diagnosis of stage 3 brain cancer. She and Dale were focused on his recovery and on God's ability to grant miracles. However, on Sunday, October 4, the doctors gave Dale no more than 3 weeks to live. Afraid that he might not have even that much time, Whitney expressed the urgency of their situation.
We were able to visit Dale and Whitney an hour after her call. Though Dale was not able to communicate with us, Whitney and Dale's mom sat together and told us about the man he was, his interests, and his positive nature. Over the past few months, Dale's hands have become very significant to the family as they sat next to his bedside many a day holding his hands and talking with him. In order to preserve this memory, a photographer went to the home to capture pictures of their hands together; impressions of his thumbs and castings of his hands were also made.
Dale enjoyed teaching his 4-year-old son, Grayson, about golf. They spent most of their time together on a course, at the driving range, or watching golf tournaments. To celebrate those moments a shadow box will be made with some of Dale's favorite golf items. Their daughter, Tinsley, is just 2 years old ; she too will have a special shadow box made, it will hold a photograph of their hands, a charm bracelet telling the story of her Daddy's life (she will be able to remove it and wear it when she is older), a necklace with her Daddy's thumbprint, and the scripture that he read at her dedication.
Some of Dale's other favorites and the way they will be honored include: tree skirts and throws made from some of his clothing to recognize his love of Christmas, stepping stones with the impression of his shoes for his joy of working in the yard, and letters from friends and family so that his children can appreciate their Daddy through the eyes of others.
Please join us in praying for God's arms to comfort the McDaris family.
Dale passed away on October 8, 2009; he was 49 years old.