Seek and Snap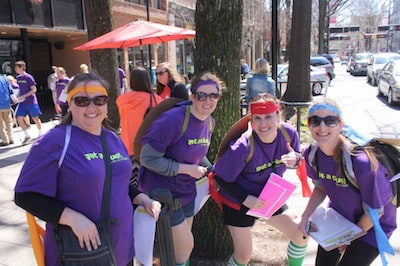 Seek & Snap 2015 will NOW be held on SUNDAY, May 31, from  12:00 – 5:30. 
This is a team event, but this year, if you need our help in creating a team, you got it.  Pairs can also register and we will match you up with another "pair" – who knows maybe you have not even met your best friend yet :). 
If making your own team, teams should be made up of 4 people. 
Your team will be given a series of clues and two hours to find as many items as you can within a designated area in downtown Greenville.  You will need a digital camera to capture proof of your find.  Fabulous prizes will be awarded to winning teams.

SIXTH Annual Seek and Snap, a digital scavenger hunt fundraiser for Let There Be Mom
Sunday, May 31, 2015
Grab your family, friends, or co-workers and make a 4 person team. (the only age requirement, children under the age of 15 are required to be on a team with at least one adult over the age of 18). Pairs can also register, we will then hook you up with another "pair" to ultimately create your four person team.
Team Categories:

Family (parents and children from the same immediate family) – $85 registration donation per team (+$20 after April 6)
Corporate – four members from the same company. – $105 registration donation per team (+20 late fee after April 6)
Friends – four people you know  (and like) – $105 registration donation per team (+$20 late fee after April 6)
Pairs – two people that will then be matched up with another "pair" to create a four person team ($60) (+$10 late fee after April 6)
Registration includes:  FUN t-shirt, incredible scavenger hunt event,  entertainment during scoring time, and the opportunity to win fabulous prizes!
12:00 Check-in Begins (last check in: 12:40) – Boxed lunches  are available for purchase for $6, so for those of you going to church beforehand, you can join us right after and have your lunch waiting on you. (Firehouse Subs boxed lunch includes Sub (ham, turkey, or veggie), chips, cookies, and a drink / Fluor Field Hot dog lunch includes hot dog, chips, and a drink) 
1:00 – 3:30 The Search (Staggered starts beginning at 1:00PM, 2 hour search time).  There will be some prizes to be found along route this year.
3:00 – 4:40 FUN – music, games, inflatable slide, and other fun contests!

4:45 – 5:30 Door Prizes (must be present to win) and Scavenger Hunt Winners Announced